Training & Education _ Secondary Education
Secondary Education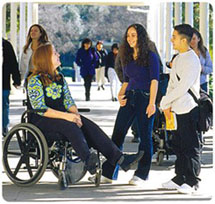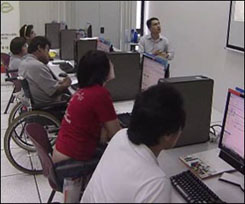 Secondary Education is a vital area for disabled children, as it determines their job and career prospects. We have provided information about organisations below which have data on special needs facilities and access facilities for disabled people in secondary schools. There exists considerable debate over whether there should be special schools for disabled children or mainstreaming within regular schools. Both types exist. This debate ultimately is a political issue. Secondary school education for disabled people is further complicated by the fact these type of schools do not have the same level of special needs facilities as primary schools, though there continues to be gradual improvement in secondary schools. The poor economy and financial crash of 2008 continues to have a negative impact on this, and is slowing progress.
The following inormation provided by SchoolDays.ie provides very important advice for parents and disabled students on secondary school education for disabled people.
Source: www.schooldays.ie
" My child has been receiving extra help in primary school. What should I look for in a secondary school?
You should look for a school with a special education teacher in place on a full-time basis to support all children with special needs in the school. It is important to also be sure the school has a commitment to supporting and educating children with special needs. The school should have on its staff teachers who have had some training in how to differentiate their methodology and curriculum for children with special needs. There should be an accepting attitude on the part of all staff. Remember, your child is entitled to enter fully into the life of the school and avail of all it has to offer. How do you find out these things? Talk to the school principal and ask questions about the topics listed above. Remember, your child may be eligible for special consideration at the time of Junior Cert and Leaving Cert but this will have to be determined about a year before these exams will be taken.

What is s/he entitled to?
A child who has been receiving special education resources or support in primary school is eligible for continued support at secondary level so long as they continue to have a special education need. It is possible that a primary school child, after receiving several years of support, could no longer be deemed to have a special education need but this is the exception not the rule.
Your child will be entitled to the same general provision he or she received in primary school. Typically this takes the form of specialist teaching from a Learning Support or Special Education Resource teacher (both are now often being referred to simply as Special Education teachers. This support is to be determined based on need with the number of hours of support being determined by the Individual Education Plan (IEP) drawn up in the last year of primary school. In addition to the IEP there should have been a Transition Plan completed during the last year of primary school The Transition Plan will devise the structure of transition to secondary school and may alter the IEP for a short period of time. If this happens there should be a team meeting in about six months or less to write the secondary school IEP. In general students in secondary school are eligible for the same supports as in primary school. This may include a Special Needs Assistant (SNA).

How do I go about making sure they get that?
Generally speaking your child's Individual Education Plan is the map which documents exactly what services your child will receive, when he or she will receive them and from whom. The IEP is your best protection against a child not receiving the services they need. IEP's will eventually become legally binding documents on all parties and a school must provide the services outlined in the IEP. An IEP cannot be changed or implemented without your consent. Remember that upon entering secondary school a Transition Plan may be in place that slightly alters the previous IEP. This will have to be reviewed within a short span of time to be sure the child receives appropriate support services. Don't be afraid to talk to the school principal because he or she is ultimately responsible to see to it that children receive the services they are entitled to receive.

What are my options if we run into difficulties?
Should problems arise you should first speak to the Year Head and address your concerns. The Special Needs Organiser (SENO) assigned to the school should be alerted as well as the appropriate special education teacher(s). A team meeting, of which you are entitled to be a member, can be convened within a reasonable time frame and your concerns will be discussed. If this meeting does not satisfy you or not result in the child receiving the services you may contact the National Council for Special Education for further information and support.
It is important to take things one step at a time. Speak to your child's special education teacher first and be clear about your concerns. Be assertive and not aggressive. Remember, generally speaking everyone is doing the best they can. Do have your child's IEP in front of you when you are speaking to the teacher or other staff member. Be aware of your rights to appeal as outlined in the NCSE and SESS websites. Don't rush to judgement, try and work things out amicably before you make threats to appeal. The next most important port of call will be the Special Needs Organiser assigned to the school.

Hidden Disabilities
Not all children who have special education needs come to the attention of parents or educators in primary school. The human brain is an organ that tries to meet the demands placed upon it at any given time. As anyone who has gone to school knows, the demands of the curriculum get greater and greater each year of schooling. In secondary school the curriculum subjects become incredibly complex each year. The fact that a student is being educated by many different teachers each year further complicates matters. There are students who have had no difficulty suggestive of a special education need at primary school who suddenly seem to have a lot of difficulties in secondary school. Unfortunately they are often perceived as "lazy" or "unmotivated" and sometimes as "difficult" students.
If these labels stick and no thought or concern raised about a possible learning difficulty being present the student can become trapped in a cycle of failure and rejection by teachers. The result could be early school leaving, behaviour difficulties to hide the learning problem, lowered self-esteem, loss of self-confidence and trouble at home. It is important to recognise that some students, no matter how well they performed in primary school, may have a special education need that doesn't appear until secondary school.

What are the warning signs?
It is not possible to list the many warning signs of a hidden disability but generally speaking one should be considered any time a student with a previously successfully record in primary school begins to exhibit difficulties in secondary school. There are a variety of causes to school failure at second level but a hidden disability can often be reasonably suspected when one or more of the following difficulties become noticeable:

Memory problems
Organisational difficulties
Refusal to go to school
Difficulty organising thoughts into speech
Inability to recall facts from yesterday's lesson even if they seemed retained the night before
Unusual spelling problems
Unusual difficulty with more advanced mathematical problems
Pronounced difficulty in foreign language class
Behavioural difficulties not present in primary school
Mood swings or sudden mood changes that last several hours
Reluctance to engage with parents about school difficulties

Although a partial list it is a good guide for parents and teachers to thoughtfully consider the presence of a hidden learning disability."
Source: www.schooldays.ie
---

SchoolDays.ie provides you with details of Secondary schools in Ireland some of which have Special Needs capabilities. You will need to contact the school authorities to determine exactly what special needs teachers, special education programme, assistive technologies, disabled toliets, and access facilities they have and if they are suitable for your child.
Address:            PO Box, 10718, Blackrock, Co Dublin
Telephone:       01 440 6608
Fax:                    01 902 2747
Email:                 info@schooldays.ie    
Website:            http://www.schooldays.ie/articles/secondary-Schools-in-Ireland-by-County
---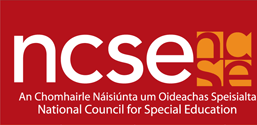 The National Council for Special Education (NCSE) is a statutory body established under the Education for Persons with Special Education Needs Act 2004. Since their establishment, they have concentrated on developing an organisation which provides a timely and efficient service to schools in sanctioning teaching and Special Needs Assistant (SNA) resources to support children with special educational needs.
The NCSE have also embarked on a wide-ranging programme of research on the provision of special education which will help them formulate policy advice to the Minister for Education and Skills.
The aim of the website is to provide some introductory information about the work of the Council. It is hoped the website will become a useful resource for parents, teachers, health and education professionals and policy makers interested in their work. They also provide links to other websites with information on Special Education which you may also find helpful.
Telephone (General): 046 948 6400
Email: ops@ncse.ie
Website:  www.ncse.ie
---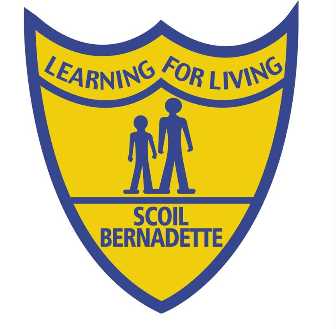 Scoil Bernadette is co-educational post primary school, which caters for the needs of students aged 12-18 years with mild general learning disabilities.Their aims are not fundamentally different from those of any young person – namely the fullest development of their personalities and talents. Their Primary Aim is to provide a secure, caring and supportive environment through the provision of a broad curriculum of social, personal, academic, sporting, vocational and relevant life-skills programmes. Their Secondary Aims are to enable students to live a full life and to realise his/her potential, to enable the student to function as independently as possible and to enable the student to continue learning in adult life.

Address:         Montenotte, Cork
Telephone:     021 464 3100
Fax:                 021 450 7580
Email:              office@scoilbernadette.com
Website:         http://www.scoilbernadette.com/
---

The National Educational Psychological Service (NEPS) is a service of the Department of Education and Science. NEPS psychologists work with both primary and post-primary schools and they are concerned with learning, behaviour, social and emotional development. Each psychologist is assigned to a group of schools.
NEPS psychologists specialise in working with the school community. They work in partnership with teachers, parents and children in identifying educational needs. They offer a range of services aimed at meeting these needs, for example, supporting individual students (through consultation and assessment), special projects and research.
"NEPS mission is to support the personal, social and educational development of all children through the application of psychological theory and practice in education, having particular regard for children with special educational needs."
Address:             Frederick Court, 24/27 North Frederick Street, Dublin1
Telephone:         01 889 2700
Fax:                      01 889 2755
Email:                   neps@neps.gov.ie
Website:              www.education.ie

Back to top of page