Aids and Appliances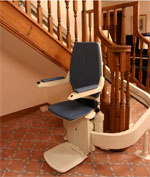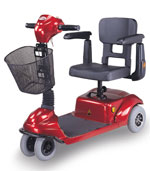 We have included a listing of businesses and organisations which provide a wide range of aids and appliances for disabled people in Galway city and county and throughout Ireland.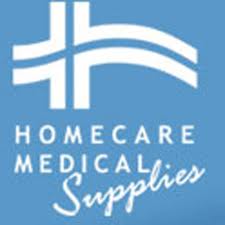 Homecare Medical Supplies is Ireland's leading supplier of furniture and medical equipment to the nursing home and healthcare markets. The categories of such supplies this organisation provides are as follows:
Nursing tunics, nebulisers, footwear, chairs and leg rests, daily living, stairlifts, bedroom and accessories, patient handling, pressure relief, continence care, bathroom and toilet, disposable misc, backcare, home nursing, mobility.
The website allows users to browse and shop for their preferred product online, and they also have retail outlets in Ballyhaunis, Castlebar and Galway.

Contact Details (Galway):

Address: Homecare Medical Supplies, Terryland Retail Park, Headford, Co. Galway

Email: hcms@eircom.net

Telephone: 1890 390 590

Fax: 091 567720

Website: www.homecaremedicalsupplies.ie
---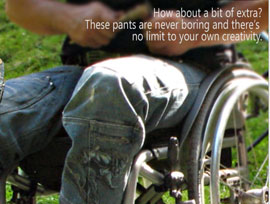 The Rolling Elephants Company fashions unique accessories for unusual people.
We distribute handcrafted jeans for people who take life sitting down – wheelchair users. First impressions very often depend on clothing and manner. And it's definitely much easier to be open-minded and make contact when you feel comfortable and confident with your outfit.
Cool – Casual – Functional
The wheelchair certainly is part of your life – don't let it take over and reign your sense of clothing. No need to wear drab practical rags when there are these lovely jeans.
According to their personal measurements and special needs every customer gets a unique pair of jeans with perfect fit, 100% custom made and individually tailored. We concentrate on close contact with our customers. We listen to their wishes or needs in order to achieve optimum satisfaction. Thus the customers influence our product and determine what we sell.
Address: Rolling Elephants Limited, 25  Goatstreet, Moonshadow,  Dingle, Co. Kerry, Ireland
Email: nina@rollingelephants.com
Telephone: 087 171 2626
Website:  www.rollingelephants.com
---
This website is an online resource which provides information on assistive technology and directory of products available from Irish suppliers. It has an extensive product directory, with categories such as: blind and low vision, building environment, clothing, communication, computers, deaf and hard of hearing, eating and drinking, footwear, handling and lifting, healthcare products, home furniture and fittings, housekeeping, orthoses, personal care, recreation/leisure/sports, seating and accessories, car and vehicle adaptations, walking/standing devices, wheeled mobility and the workplace.

Address:          Assist Ireland, Citizens Information Board, Ground Floor,
Georges Key House, 43 Townsend Street, Dublin 2

Email:              support@assistireland.ie

Telephone:       1890 277 428

Website:          www.assistireland.ie
---


Mobility Ireland Ltd was established in 1999 by Malachy McElmeel. Based in Ashbourne Co Meath, Motability Ireland manufactures car adaptations to assist disabled drivers and passengers. The most common type of adaptations are hand controls for disabled drivers and swivel seats for disabled passengers but the list of adaptation solutions available is vast.
The company has also grown to be the leading supplier of wheelchair accessible cars for disabled passengers. Whether you are in the market for a new wheelchair accessible car or a pre owned one, Motability Ireland have the vehicle in stock and offer free home demonstrations. Motability Ireland is also the country's specialist in Drive from Wheelchair Vehicles to give wheelchair confined drivers complete independence.
Address:          Unit 21 Ashbourne Industrial Park, Ashbourne, Co. Meath
Telephone:       01 835 9173
Fax:                 01 835 9043
E-mail              sales@motabilityireland.com
Website:          www.motabilityireland.com
---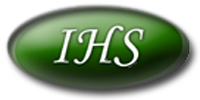 Independent Healthcare Service Ltd. was founded in 2006. They have over 30 years combined experience in the area of healthcare, building up a reputation for quality, based on total commitment to a changing market. Their goal is to create a comprehensive range of products and services designed to ease the workload of the carer and to improve the quality of life for patients.
Address:          Independent Healthcare Service Ltd, Unit 3, Wespoint Business Park, Mulhuddart, Dublin 15.
Telephone:       01 443 3390
Email:              info@ihsltd.ie
Website:          www.ihsltd.ie
Back to top of page