Vision For Change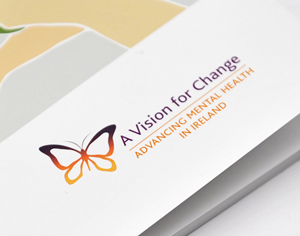 In 2006, the Irish Government published a new and quite radical policy document called Vision for Change
This calls for a complete overhaul of the mental health system in Ireland. It describes a new framework for building and fostering positive mental health across the entire community and for providing accessible, community-based, specialist services for people with mental illness. It involves de-institutionalisation of patients and placing patients in communities where they can integrate with society and become more socially and economically included. This is backed up by a wide and growing range of services to treat and assist the patient in the community and facilitate improvement and recovery.
In 2014 the Mental Health Commission published a report into how this 'Vision for Change' is progressing.
Working Together for Quality Mental Health Services. Mental Health Commission, June 2014
There has been significant progress in some counties, but a lot more needs to be done. The programme in the west of Ireland is lagging behind, and will require a lot more effort and resources in the coming months and years. There is still a lot of stigma and discrimination against those people with mental illness and other disabilities in communities and throughout Irish society. This is something which the HSE, the mental health services, the government and the legal system has failed to deal with. There will be no real progress until these factors are dealt with.
There is a new propsal for Healing Centres which would integrate, coordinate, oversee and deliver many health, economic and sociological services in relation to mental health. This proposal is at www.healingcentres.org