Accessible Buildings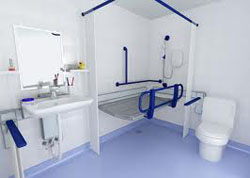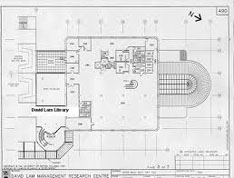 Many buildings are still inaccessible to disabled people. It is our intention to address this issue at local level and national level, and work in partnership and cooperation with government, civil servants, public bodies, organisations and businesses to deliver accessible buildings and make existing buildings more accessible.
National Level
In 2005, the Government passed the Disability Act and this established Sectoral Plans for various government departments. These Sectoral Plans aim to provide greater access for all disabled people to all goods and services, including buildings and footpaths. The Department of the Environment has a Sectoral Plan which aims to increase the accessibility of all public buildings by 2016. At national level, NCPD will work with government ministers and senior civil servants to monitor and assess progress in the implementation of this plan. At national level, NCPD will continue the work of PWDI, working with government ministers and senior civil servants to monitor and assess progress in the implementation of this plan.

Click on the following link to download the Sectoral Plan - Department of the Environment, Heritage and Local Government.
Further updates to this Sectoral Plan include:

The Centre for Excellence in Universal Design (CEUD) was established by the National Disability Authority (NDA) in January 2007 under the Disability Act 2005.
Universal Design is the design and composition of an environment so that it can be accessed, understood and used to the greatest extent possible by all people, regardless of their age, size or disability. This includes public places in the built environment such as buildings, streets or spaces that the public have access to; products and services provided in those places; and systems that are available including information and communications technology (ICT).
Web site: http://www.universaldesign.ie/
Key online resources from the National Disability Authority:
Accessibility toolkit: http://accessibility.ie/
Online disability training: http://elearning.nda.ie
Accessible buildings:http://universaldesign.ie/Built-Environment/Building-for-Everyone/

---
Local Level
NCPD in Galway is seeking representation or has got representation on the following bodies so as to represent and work for the interests of all disabled people on these bodies
Access for All in Galway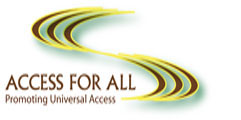 Access for All is a group, supported by Galway City Council, which keeps under constant review the ease / difficulty of accessing public facilities in Galway – in particular, for people with special needs. Its meetings are attended by representatives of people with various categories of disability, e.g., wheelchair & mobility-scooter users, people with other mobility difficulties – often described as the 'walking wounded', people with visual or hearing impairments, etc. Meetings of the Group are always attended by Access Officers from the City Council. The meetings and activities of the Group are ably co-ordinated by Nollaig Mc Guinness, from the Galway City Partnership, and have been concerned with issues such as awareness by the public of the special needs of people with disabilities, specific instances of difficulties caused by absence of ramping of footpaths at junctions and crossings, broken paved surfaces, control of footpath obstructions – including tables, chairs and screens outside pubs and restaurants etc. - bollards, parking on footpaths, cycling on footpaths, abuse of designated disabled parking spaces, design of road junctions, provision of bus stops, design of bus stops, etc. For particular topics, officers of the City Council, and from other bodies, who have responsibility for the topics in question have been invited to attend meetings to hear of the problems regularly encountered by people with special needs and to dis-cuss how these might best be resolved. For example, Community Wardens have attended to discuss their role in the enforcement of the licences for street furniture; a Planning Engineer has attended to discuss the Smarter Travel proposals, an officer from the HSE has attended to discuss access problems at the hospitals, ranging from waiting times at outpatients departments to inadequate special-needs parking.
Other activities undertaken by the Access for All group have included collaboration with a local second-level school to devise material for the public awareness campaign to highlight the rights and special needs of people with disability. This has resulted in the large poster campaigns on the advertising hoardings on the approaches to the city and printed cards, which were distributed to shops and places of work giving simple tips on how people with disability should and should not be dealt with. A project in progress at present is the 'vetting' of bus-stops on all the routes of the city bus services. This has involved obtaining the use of an out-of-service bus from Bus Éireann on a number of occasions and, on each occasion, to travel the entire length of a city bus route – stopping at every bus-stop to allow a wheelchair-user to alight from the bus and to re-enter it again and to note any particular problem at each stop. All problems are passed on to the City Council for corrective action. For the past few years, Access for All has been fortunate to have the attendance at its meetings of Eithne Murphy who, in addition to being an Access Officer in the City Council, was also the Executive Engineer to whom was allocated the budgetary allocation for works to the roads and streets of the city to improve access for people with special needs. She has recently been transferred to another area of work in the Council. We all wish her well there, and we hope her successor will be just as sympathetic to the needs of those with special needs and as effective in meeting those needs.
Website: http://www.access4all.ie/AboutUs.htm
NCPD representatives: to be decided
---
Galway County Council has an accessibility committee which meets from time to time. They address issues of accessible buildings and footpaths in Galway county. They have made significant progress in this area since the year 2000, and are continuing with this progress.
Website:Accessibility - Galway County Council
NCPD representative: to be decided
---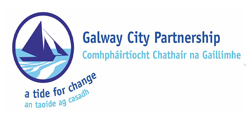 Galway City Partnership Mission Statement:
'To tackle disadvantage and social exclusion, with particular emphasis on those currently or in danger of becoming long term unemployed. To enhance their capacity to contribute fully to social and economic development'
Our role in the development of innovative, flexible programmes to meet the needs of our specific groups and individuals.
We work strategically with local agencies and groups to ensure that mainstreaming of successful projects becomes a reality while enabling the lessons learned to positively influence policy at all level.
We now receive Core funding from the Local Community Development Programme under the Dept. Community Equality & Gaeltacht Affairs.
Website: http://www.gcp.ie/
NCPD representative: to be decided
---
The following bodies also work on accessibility.

Accessible Ireland was created for wheelchair users, because of a lack of easy and professional information on Irish hospitality in Ireland that can accommodate the disabled person or disabled traveller. Accessible Ireland provides all necessary basic information regarding amenities such as roll-in showers, accessibility, guide dogs, locations and facilities etc. in Ireland.

Accessible Ireland is an excellent site for all travellers visiting, or travelling in Ireland because it gives an easy overlook of accommodation e.g. hotels, guests houses, self catering, B&B's, restaurants, venues, visitor attractions, etc.
Accessible Ireland is an independent partnership company working to source new and existing disabled friendly amenities. They are a team of wheelchair users who have travelled the globe and have experienced many non-accessible amenities throughout Ireland and abroad, through misleading information.

Accessible Ireland endeavour to bring accessible accommodation, Irish hospitality and amenities to you, giving you the most comfortable and enjoyable experience of Ireland. They offer the very best in hospitality and more and deliver ideal locations to visit without compromising accessibility

Address:          Accessible Ireland, 5 The Cottages, Bohernabreena, Dublin 24
Email:              info@accessibleireland.com
Website:          www.accessibleireland.com
---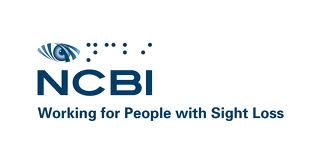 National Council for the Blind of Ireland (NCBI) is a not for profit charitable organisation which provides support and services nationwide to people experiencing sight loss. They provide a range of services to public and private organisations to make sure that their services are accessible to people who are blind and vision impaired. They also provide a range of information and options on what to do about inaccessible buildings and services, including making a complaint, or making a claim of discrimination to the Equality Tribunal, amongst others.
Address:   National Council for the Blind of Ireland, Whitworth Rd, Drumcondra, Dublin 9.
Telephone:  1850 33 43 53
Fax:      01 830 7787
Email:   info@ncbi.ie
Web site:  www.ncbi.ie Back to top of page
Back to top of page