Employment
_
Workplace Equipment Adaptation Grant
Workplace Equipment Adaptation Grant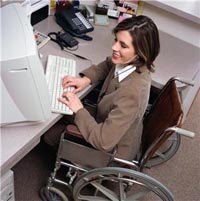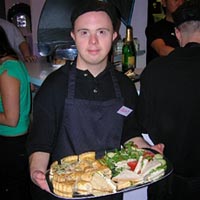 Grant assistance is available for private sector employers, employees, and self employed people with disabilities who need to adapt the workplace or purchase specialised equipment to accommodate staff with a disability through FÁS Workplace Adaption Grant Scheme (WEAGS). You can apply for a grant if the person with a disability is already employed or is about to be employed by you. Alternatively, if you are a person with a disability, you can apply for the WEAGS yourself if you are already in employment or about commence employment.
Public sector employers in Ireland (i.e., Government Departments, State agencies, health boards, local authorities etc.) are obliged to facilitate the needs of staff with disabilities. This means making assistive technology, adaptive equipment and facilities, aids and appliances available obligatory and they are therefore not entitled to claim the FÁS Grant for adapting or equipping the work place for their staff with disabilities.  (Public sector employers are required to make these services available from their own resources). Examples of some adaptations for which grants may be given include some of the following:
Voice synthesisers for computers or amplifiers for telephones
Alarm systems with flashing lights
Minor building modifications (including construction or addition of ramps or modifications to toilet facilities)
Braille converters
Stair lifts
Rules
There are a wide range of equipment and adaptations that are covered by this grant. You should be aware, however, that you are not entitled to make an application for grant assistance each year.
You also cannot make an application for equipment that was purchased retrospectively (i.e., you cannot make a claim made in 2007 for equipment purchased in 2005).
Rates
The maximum amount of grant aid is €6348.70 towards the cost of adapting or purchasing equipment. This grant can also be used to upgrade equipment that was funded previously.
How to apply
You or your employer can apply for the grant if you are already employed or about to commence employment. You will need to get in touch with your local FÁS Employment Services office and obtain the application form (called a "Workplace Adaptation Grant Form"). You should identify the equipment and/or adaptation required, justifying why it as needed and supply quotations. If the equipment or adaptation costs over €1,270 then you are required to obtain 3 price quotations from different suppliers.
When you have completed the application form and quotations are received by FÁS, your application will then be considered. The equipment or adaptation that is selected will be the most appropriate for you (and may not necessarily be the lowest quote). The grant is then paid directly to the applicant to cover the costs.
If you are a public sector employee in Ireland and require or will require adaptive or assistive technology, or changes to your workplace, you should get in touch directly with the Disability Liaison Officer in your Human Resources Unit.
Where to Apply
Completed applications for a workplace equipment or adaptation grant should be sent to your local FÁS Employment Services office. A copy of the receipt for the item or application should also be enclosed with your application.
Public sector employees in Ireland that require or will require adaptive or assistive technology should contact their Human Resources Unit.
Refunds of Value-Added-Tax (VAT)
It is possible to claim a refund of VAT paid on the purchase or importation of certain aids and appliances (including parts and accessories) that have been designed to help a person with a disability to carry out his or her daily functions or in the exercise of his or her everyday work.
In addition, if someone else buys the aid, appliance or item of equipment for you, he or she can claim the VAT refund, provided:
The appliance, aid or application is not being made available directly by the State, by any Board established by the State or by any local or public authority. (In other words, you cannot claim a VAT refund on an item or adaptation that has been provided by a public body in Ireland).
The goods  have not been designed for leisure purposes
VAT has not already been paid on the item or equipment in any other EU country
You should note that the disabled person might be required to provide medical evidence of his or her disability (e.g. a letter from his or her doctor or healthcare practitioner).
How to Claim
In order to claim a refund of VAT on a piece of equipment or an adaptation for a disabled person in employment, you will need to download and complete a Refund of VAT form 61A. Your completed application form (together with an invoice or receipt for VAT paid) should be sent to the VAT Repayments Section at the address below.

VAT Repayments
Office of the Accountant General
VAT repayments Section
Government Offices
Kilrush Road, Ennis, Co. Clare
LoCall: 1890 20 20 33
.
Back to top of page